Laboratoire Biologie Fonctionnelle et Adaptative (BFA) :
Equipe Myologie Fondamentale et translationnelle
http://bfa.univ-paris-diderot.fr/equipe-4/
Membres :
Brigitte Buendia, Nathalie Vadrot
Membres :
Brigitte Buendia, Nathalie Vadrot
Mots Clefs :
Lamines, Enveloppe Nucléaire, cardiomyopathies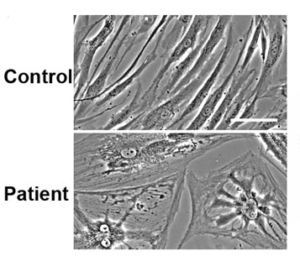 Abnormal cellular phenotypes of fibroblasts from the patient with LMNA p.R388P-associated L-CMD and lipodystrophy. Image de Barateau et al, PlosOne, 2017
Thématiques :
Les lamines (isoformes A et C) sont des protéines de la famille des filaments intermédiaires. Dans le noyau des cellules de mammifères, elles interagissent avec des partenaires, incluant les protéines LAP2s. De nombreuses mutations sur le gène LMNA qui code pour les lamines A/C causent chez l'homme des atteintes des muscles et/ou du tissu adipeux ou des os, ou des syndromes de vieillissement prématuré. Récemment, nous avons identifié quelques mutations rares sur le gène TMPO qui code pour LAP2s, et dont le rôle dans le développement de pathologies cardiaques reste à clarifier.
Nos projets visent à élucider les mécanismes moléculaires sous-jacents aux pathologies associées à des mutations des gènes LMNA et TMPO. Nos approches expérimentales ont pour but d'évaluer, dans différents contextes cellulaires (fibroblastes, myoblastes – myocytes, cardiomyoblastes – cardiomyocytes) :
– le niveau d'expression des protéines lamines A/C et LAP2s sauvages;
– le rôle des protéines lamines A/C et LAP2s sauvages dans la régulation de i) la structure du noyau,ii) l'ancrage et la fonction d'autres protéines nucléaires (protéines membranaires, facteurs de transcription), iii) l'expression de gènes et iv) la capacité des cellules à crôitre, proliférer ou différencier;
– l'impact d'une modification du niveau d'expression des protéines lamines A/C et LAP2s sauvages ou mutées en des sites associés à des pathologies, sur leurs fonctions.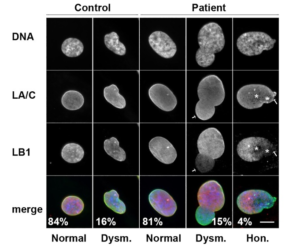 Human skin fibroblasts from control (passage 13) and patient (passage 11) were fixed, labelled with anti-LA/C or anti-LB1 antibodies, and observed by immunofluorescence microscopy. DNA was stained with Hoechst. Shown are images representative for normal nuclear morphology (Normal), nuclear dysmorphy (Dysm.) and lamina with a honeycomb pattern (Hon.). Asterisks indicate the honeycomb aspect of the lamin A/C network. Arrows indicate the regions with weak lamin B1 staining. The percentages of the different phenotypes are indicated on the pictures; n > 300 nuclei/condition. Scale bar, 10 μm.
Barateau et al, PlosOne, 2017
Publications :
2018 – Samson C, Petitalot A, Celli F, Herrada I, Ropars V, Le Du MH, Nhiri N, Jacquet E, Arteni AA, Buendia B, Zinn-Justin S. Structural analysis of the ternary complex between lamin A/C, BAF and emerin identifies an interface disrupted in autosomal recessive progeroid diseases. Nucleic Acids Research. 46(19):10460-10473. doi: 10.1093/nar/gky736
2017a – Barateau, A., Vadrot, N., Vicart, P., Ferreiro, A., Mayer, M., Héron, D., Vigouroux, C. and B. Buendia. A novel lamin A mutant responsible for congenital muscular dystrophy causes distinct abnormalities of the cell nucleus. PLoS One. 12(1). doi: 10.1371/journal.pone.0169189
2017b– Barateau, A., Vadrot N., Agbulut, O., Vicart, P., Batonnet-Pichon, S. and B. Buendia. Distinct Fiber Type Signature in Mouse Muscles Expressing a Mutant Lamin A Responsible for Congenital Muscular Dystrophy in a Patient. Cells, 6, 10; doi:10.3390/cells6020010
2017c- Paulsen, J., . Sekelja, M., Oldenburg, A.R., Barateau, A., Briand, N., Delbarre, E., Shah, A., Sorensen, A.L., Vigouroux, C., Buendia, B. and P. Collas. Chrom3D : Three dimensional genome modeling from Hi-C and nuclear lamin-genome contacts. Genome Biology, 18:21. doi: 10.1186/s13059-016-1146-2.
2015 – Vadrot, N., Duband-Goulet, I, Cabet, E., Attanda, W., Barateau, A., Vicart, P., Gerbal, F., Briand, N., Vigouroux, C., Oldenburg, A.R., Lund, E.G., Collas, P. and B. Buendia. The p.R482W substitution in A-type lamins deregulates SREBP1 activity in Dunnigan-type familial partial lipodystrophy. Human Molecular Genetics Apr 1;24(7):2096-109. doi: 10.1093/hmg/ddu728. Epub 2014 Dec 18.